Lyrics in Sanskrit:
Nammo Ratna Trayaya, Nammo Arya Jnana Sagara,
Vairochana, Byuharatchaya, Tathagataya,
Arahate, Samyaksam Buddhaya,
Nammo Sarwa Tathagate Bhyay,
Arahata Bhyah, Samyaksam Buddhe Bhyah,
Nammo Arya Avalokite Shoraya Bodhisattvaya,
Maha Sattvaya, Maha Karunikaya,
Tadyata, Om Dara Dara,
Diri Diri, Duru Duru, Itte We, Itte Chale Chale,
Purachale Purachale, Kusume Kusuma Wa Re,
Ili Mili, Chiti Jvalam, Apanave Shoha.
Da Bei Zhou mantra translation in English:
Adoration of the triple Gem, Adoration to the Ocean of noble wisdom,
The Illuminator, to the King of the host, to the Tathagata,
To the Arhat, to the Perfectly Awakened One,
Homage to all Tathagatas,
To the Arhats, to the Fully and Perfectly Awakened Ones,
Homage to Noble Avalokitesvara, to the Bodhisattva,
To the Great Being, to the Greatly Compassionate One,
Thus, bearing,
Firm, bearing a burden,
Moving, trembling, shaking, in flower, in the circumference,
Blazing understanding, Hail!
Great Compassion Mantra in English (or Nilakantha Dharani), also known as the Da Bei Zhou (Chinese) or as Maha Karuṇa Dharani is a dharani (similar to a mantra, but longer) of Mahayana Buddhist origin.
According to the Mahakarunikacitta Sutra, it was first mentioned by the Bodhisattva Avalokitesvara.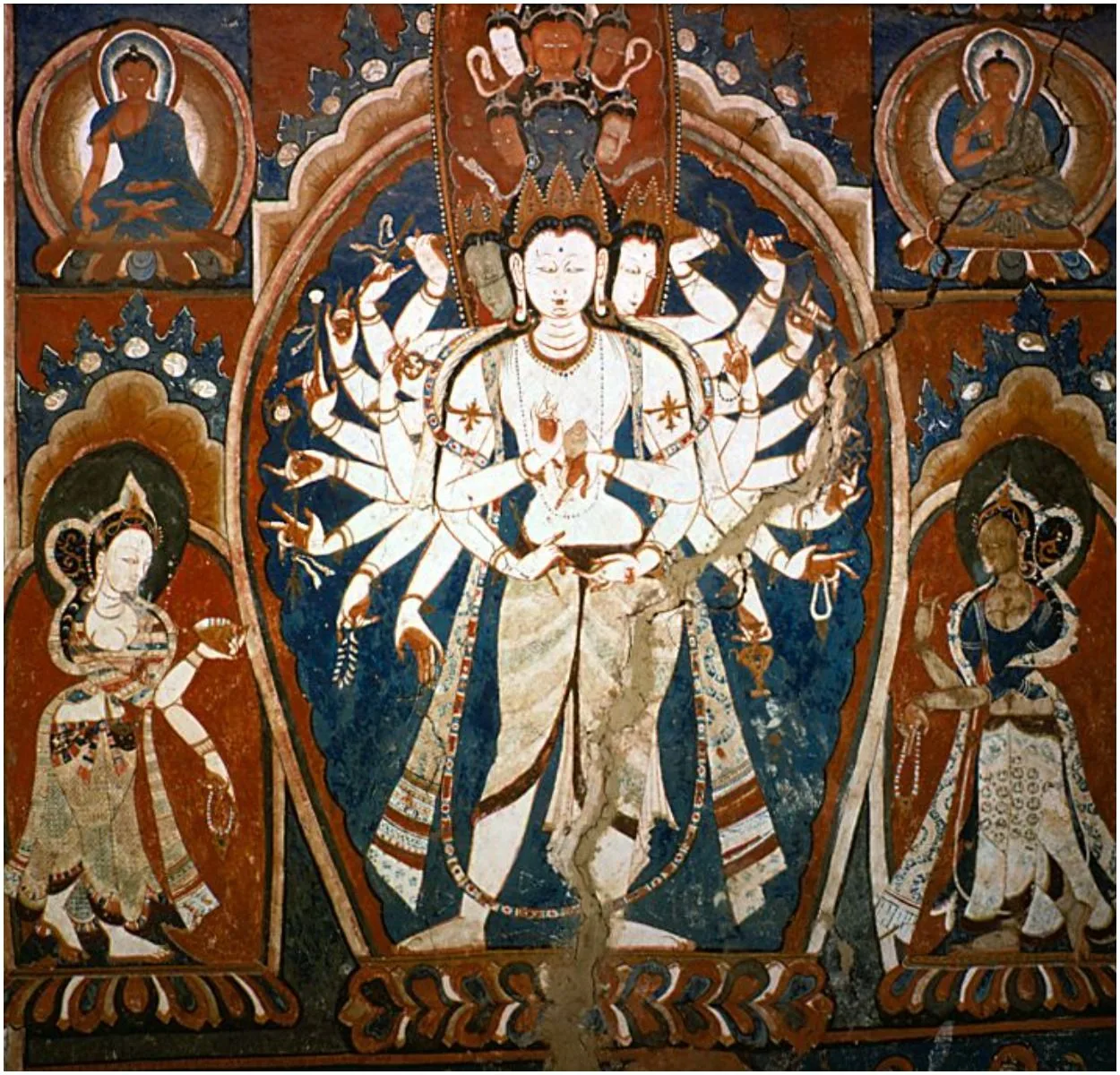 The Great Compassion Mantra is a verbal form of Dharana, a Sutra that uses syllables to transmit a powerful and effective transcendental message, creating a special state of consciousness and is said to have the power to liberate all sentient creatures from the Hell of Suffering, delivering them from Ignorance.
Avalokitesvara said:
"Bhagavan, I have a mantra of Great-Compassionate Heart Dharani and now wish to proclaim it, for comforting and pleasing all living beings; for healing all illness; for living beings to attain additional lifespan; for living beings to gain wealth; for extinguishing all evil karma and weighty sins; for keeping away from hindrance and disasters; for producing merits of all White Dharma; for maturing all virtuous-roots; for overcoming all fears; for fulfilling all good wishes. Bhagavan, please be merciful and allow me to speak."
READ MORE: White Tara Mantra
The bad deaths are:
They will not die of starvation or privation.
They will not die from having been yoked, imprisoned, caned or otherwise beaten.
They will not die at the hands of hostile enemies.
They will not be killed in a military battle.
They will not be killed by tigers, wolves, or other evil beasts.
They will not die from the venom of poisonous snakes, black serpents, or scorpions.
They will not drown or be burned to death.
They will not be poisoned to death.
They will not die as a result of sorcery.
They will not die of madness or insanity.
They will not be killed by landslides or falling trees.
They will not die of nightmares sent by evil people.
They will not be killed by deviant spirits or evil ghosts.
They will not die of evil illnesses which bind the body.
They will not commit suicide.
Those who recite and hold the spiritual mantra of Great Compassion will not suffer any of these fifteen kinds of bad death and will obtain the following fifteen kinds of good birth:
Their place of birth will always have a good king.
They will always be born in a good country.
They will always be born at a good time.
They will always meet good friends.
The organs of their body will always be complete.
Their heart will be pure and full in the way.
They will not violate the prohibitive precepts.
Their family will be kind and harmonious.
They will always have the necessary wealth and goods in abundance.
They will always obtain the respect and help of others.
Their riches will not be plundered.
They will obtain everything they seek.
Dragons, gods, and good spirits will always protect them.
In the place where they are born, they will see the Buddha and hear the Dharma.
They will awaken to the profound meaning of that Proper Dharma which they hear.
Those who recite and hold this mantra will obtain these fifteen kinds of good birth. All gods and people should constantly recite and hold it, without carelessness.
If any living being usurps the drinks, foods, or possessions of Sanghas, even though one thousand Buddhas appear in the world, he will not get to repent and reform.
Even if he repents, his sins will not be eliminated. But now, by reciting this Great Compassion holy mantra, his sins will be eliminated.
If anyone usurps, eats, or uses the drinks, foods, or possessions of Sanghas, he must repent to teachers of the ten directions to eliminate his sins.
Now, when he retires this Great Compassion Dharani, the teachers of the ten directions will come to bear witness, and then all his weighty sins and hindrances will be eliminated." quote from Mahakarunikacitta Sutra.
Benefits of Chanting Great Compassion Mantra:
Protection, purification, and it can also cure all illnesses.
The mantra of Great Compassion practice, explained by The Venerable Master Hsuan Hua:
"The great mantra of great compassion penetrates heaven and earth. One hundred recitations for one thousand days causes ten kings to rejoice. It's great compassion and kindness cure all disease. And so an announcement is projected high upon the offense screen."
Read on insightstate about more soothing mantras, like: Green Tara, White Tara, Om Mani Padme Hum, Ajai Alai or Shiva Shamboo.
Images credit – Getty Images
References

https://www.britannica.com/topic/Avalokiteshvara
http://religion.oxfordre.com/view/10.1093/acrefore/9780199340378.001.0001/acrefore-9780199340378-e-167