Saraswati Chalisa is a popular hymn composed of 40 verses.
The literal meaning of the name Sarasvati is the one who gives the Sara (essential knowledge) of Sva (our own Self).
The Goddess is also considered the Goddess of learning intelligence, education, crafts, arts, and skills. As she is the consort of Brahma, who is considered the source of all wisdom and knowledge, Sarasvati is knowledge itself.
Hence, many students or even scholars may worship her for her blessings. She is, therefore, described as white in complexion, and quite graceful and beautiful.
In the form of "Jnana Saraswati," the Goddess removes all obstacles to learning and grants us knowledge. Saraswati is a wonderful source of strength and refuge for young scholars – and all of us, who seek to learn.
She is Divine Mother of both "apara" and "para" vidya (material knowledge and spiritual wisdom), so anybody traversing a spiritual path and seeking to discover the truth of their being will honor the Goddess and seek Her blessings to attain the Highest Wisdom.
READ MORE: A Complete List Of Hindu Gods And Goddesses
Saraswati Chalisa lyrics – Saraswati Stotram: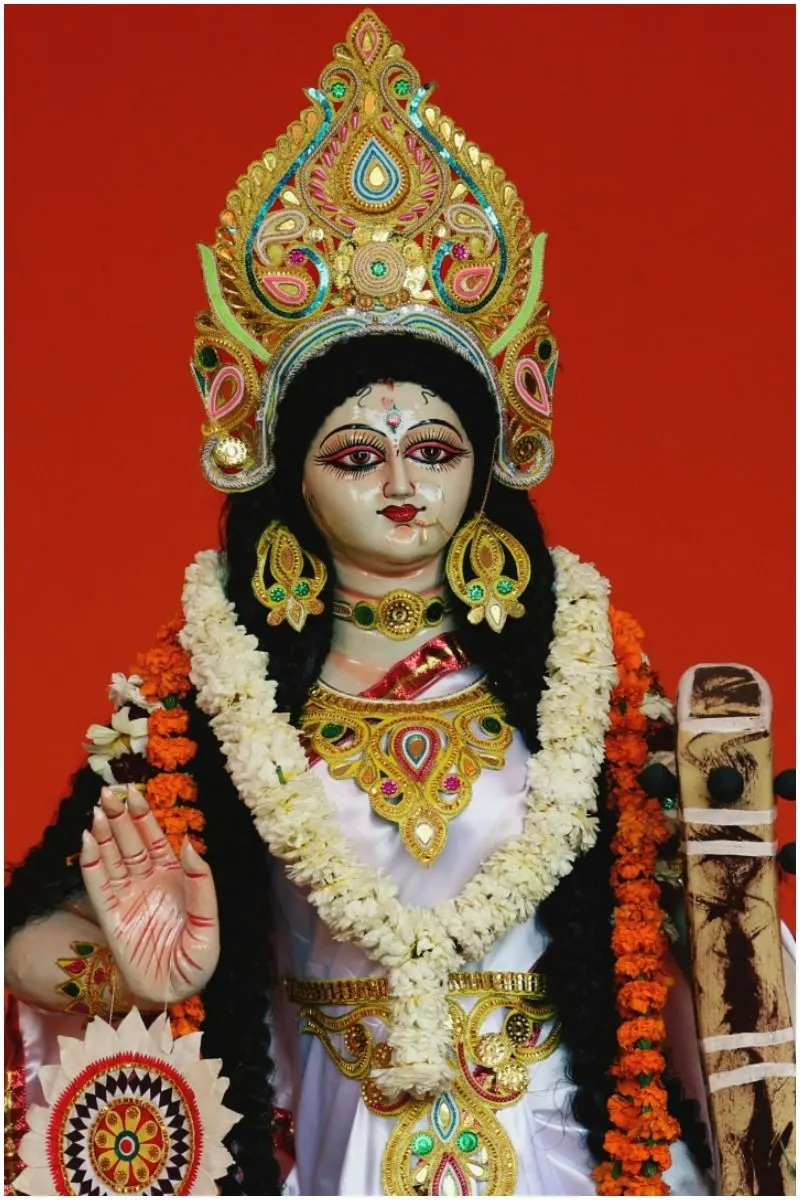 DOHA :
Janak Janani Pad Kamal Raj, Nij Mastak Par Dhaari,
Bandau Maatu Saraswati, Buddhi Bal De Daataari.
Purn Jagat Mein Vyaapt Tav, Mahima Amit Anantu,
Ramsaagar Ke Paap Ko, Maatu Tuhi Ab Hantu.
Jay Shri Sakal Buddhi Balaraasi, Jay Sarvagya Amar Avinaasi.
Jay Jay Veenaakar Dhaari, Karati Sadaa Suhans Savaari.
Roop Chaturbhujadhaari Maata, Sakal Vishv Andar Vikhyaata.
Jag Mein Paap Buddhi Jab Hoti, Jabahi Dharm Ki Phiki Jyoti.
Tabahi Maatu Le Nij Avataara, Paap Heen Karati Mahi Taara.
Baalmiki Ji The Baham Gyaani, Tav Prasaad Janie Sansaara.
Raamaayan Jo Rache Banaai, Aadi Kavi Ki Padavi Paai.
Kalidaas Jo Bhaye Vikhyaata, Teri Kripaa Drishti Se Maata.
Tulasi Sur Aadi Vidvaana, Bhaye Aur Jo Gyaani Nana.
Tinhahi Na Aur Raheu Avalamba, Keval Kripa Aapaki Amba.
Karahu Kripa Soi Maatu Bhavaani, Dukhit Din Nij Daasahi Jaani.
Putra Karai Aparaadh Bahuta, Tehi Na dharai Chitt Sundar Maata.
Raakhu Laaj Janani Ab Meri, Vinay Karu Bahu Bhaanti Ghaneri.
Mein Anaath Teri Avalamba, Kripa Karau Jay Jay Jagadamba.
Madhu Kaitabh Jo Ati Balavaana, Baahuyuddh Vishnu Te Thaana.
Samar Hajaar Paanch Mein Ghora, Phir Bhi Mukh Unase Nahi Mora.
Maatu Sahaay Bhai Tehi Kaala, Buddhi Viparit Kari Khalahaala.
Tehi Mrityu Bhai Khal Keri, Purvahu Maatu Manorath Meri.
Chand Mund Jo The Vikhyaata, Chhan Mahu Sanhaareu Tehi Maata.
Raktabij Se Samarath Paapi, Sur-Muni Hriday Dhara Sab Kampi.
Kaateu Sir Jim Kadali Khamba, Baar Baar Binavau Jagadamba.
Jag Prasidhdh Jo Shumbh Nishumbha, Chhin Me Badhe Taahi Tu Amba.
Bharat-Maatu Budhi Phereu Jaai, Ramachandra Banvaas Karaai.
Ehi Vidhi Raavan Vadh Tum Kinha, Sur Nar Muni Sab Kahu Sukh Dinha.
Ko Samarath Tav Yash Gun Gaana, Nigam Anaadi Anant Bakhaana.
Vishnu Rudra Aj Sakahi Na Maari, Jinaki Ho Tum Rakshaakaari.
Rakt Dantika Aur Shataakshi, Naam Apaar Hai Daanav Bhakshi.
Durgam Kaaj Dhara Par Kinha, Durga Naam Sakal Jag Linha.
Durg Aadi Harani Tu Maata, Kripa Karahu Jab Jab Sukhadaata.
Nrip Kopit Jo Maaran Chaahei, Kaanan Mein Ghere Mrig Naahei.
Saagar Madhy Pot Ke Bhange, Ati Toofaan Nahi Kou Sange.
Bhoot Pret Baadha Yaa Dukh Mein, Ho Daridra Athava Sankat Mein.
Naam Jape Mangal Sab Koi, Sanshay Isame Karai Na Koi.
Putrahin Jo Aatur Bhaai, Sabei Chhaandi Puje Ehi Maai.
Karai Path Nit Yah Chaalisa, Hoy Putra Sundar Gun Isa.
Dhupaadik Naivedy Chadhavei, Sankat Rahit Avashy Ho Jaavei.
Bhakti Maatu Ki Karei Hamesha, Nikat Na Aavei Taahi Kalesha.
Bandi Path Kare Shat Baara, Bandi Paash Door Ho Saara.
Karahu Kripa Bhavamukti Bhavaani, Mo Kahn Daas Sadaa Nij Jaani.
DOHA:
Maata Sooraj Kaanti Tav, Andhakaar Mam Roop,
Dooban Te Raksha Karahu, Paru Na Mein Bhav-Koop.
Bal Buddhi Vidya Dehu Mohi, Sunahu Sarasvati Maatu,
Adham Ramasaagarahi Tum, Aashray Deu Punaatu.
Images credit – @Getty
Listen to more amazing chants on insightstate, like: Durga Chalisa lyrics.